about us
Community Properties of Ohio
In 2003, Ohio Capital Corporation for Housing (OCCH) acquired the largest portfolio of scattered site project-based Section 8 rental housing in the nation. With 250 buildings across seven inner-city neighborhoods in Columbus, Ohio, these units had historically struggled with poor maintenance, high crime, and residents living in severe poverty with limited social and financial resources.
Before Photos: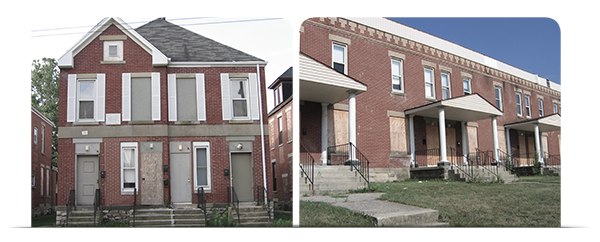 On April 23, 2003 OCCH purchased the existing for-profit management company and transformed it into the mission-oriented Community Properties of Ohio Management Services (CPO Management). The original portfolio of Section-8 units became known as the "CPO Initiative."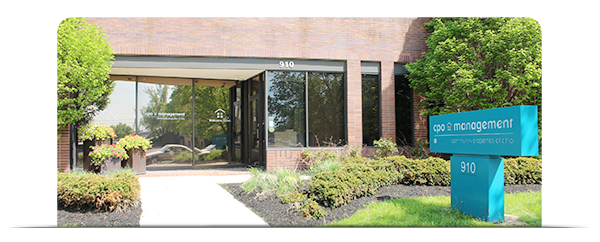 The Rehabilitation Initiative
In partnership with numerous community organizations and active support from federal, state, county and local governments, OCCH implemented a $133 million, nine-phase redevelopment plan for the 1,033 units in the CPO Initiative. Also essential to the initiative was an aggressive Eliminate the Elements® safety program, supportive services, strict lease compliance, and re-establishment of trust and accountability between residents and property management. The goal is for families and communities to use CPO housing as the foundation for transformational change.
After Photos: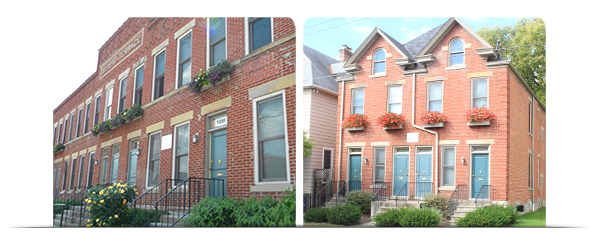 CPO Impact | Community Properties Impact Corporation
CPO Management has gone beyond traditional property management in responding to its unique challenges, requiring ongoing innovation and significant investment. Understanding these challenges, CPO established Community Properties Impact Corporation (CPO Impact) in 2007 to help fund initiatives and support the research and development needed to find and design interventions to further the mission of CPO. CPO serves a resident population living below the poverty guideline with limited access to resources. These residents benefit greatly from supportive services. Leveraging stable housing as a platform for future opportunity, CPO Impact applies a two-generation approach working with residents and their children to reduce barriers and assist families to move beyond poverty.
Initiatives are strategically designed to address five core objectives: stable housing, safe neighborhoods, resident growth (including moving beyond poverty where possible), successful children and community learning.